What is a behaviorist & what do they do?
A behaviorist is responsible for evaluating a dog to determine what problems are going on, why they are going on and coming up with a plan to correct the issues. In other words the behaviorist looks into the canine mind to figure out how the dog thinks and lets owners understand why the behavior is occurring and then comes up with a plan to correct it.
How do I know if I need a Behaviorist or a Trainer?
Many times we have an owner call up and tell us that their dog listens or follows commands but gets aggressive during specific situations. This is a prime example of someone who needs a behaviorist and not a trainer.
Learn More
Dogs As Our Teachers
Meet Jacob and Ariel our canine instructors!
Call for an Appointment:
(845) 651-3647
(845) 651-DOGS
Or complete
Our Contact Form

We exclusively handle cases of aggression or anxiety issues.

Our Services
Our programs are not "one size fits all" and are truly customized for your situation
What Our Clients Are Saying:
I adopted Ginger after she almost killed one of the dogs she was living with. She was always very sweet with me but could not see another dog without trying to kill him / her. After doing some work with Canine Case Squad and continuing to do what they told me, she slowly got better at ignoring other dogs. Here she is making friends with two new dogs that she just met.
Kevin Colban & Ginger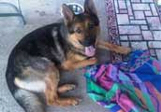 Shari – Dimitri is amazing, 1/2 hour into the car ride home he became a different dog. I have had shepherds since the age of 9, my entire life, I have never had one this loving and affectionate – especially in the first 24 hours. I brought him to my house first and we had a blast – he walked beautifully on the leash, listened to ever single command, ate nicely from the bowl that I held and was completely fine with the 5 new people (neighbors) he met. We ran around my yard for over two hours – I took him to Maz's later in the evening and he spent the rest of the night laying at our feet on his back, rubbing up on us like a cat and licking our faces..he is a mush – a pretty well mannered one at that thanks to you. I have a few pics that I've posted from today, there will be plenty more to come. Thank you again – he is an absolute joy and I couldn't be happier to have him (even if its joint custody!) He finally fell asleep on my lap, literally in me arms like a newborn baby. We couldn't have asked for a better dog.
Arda Itez & Dimitri Paramus, NJ